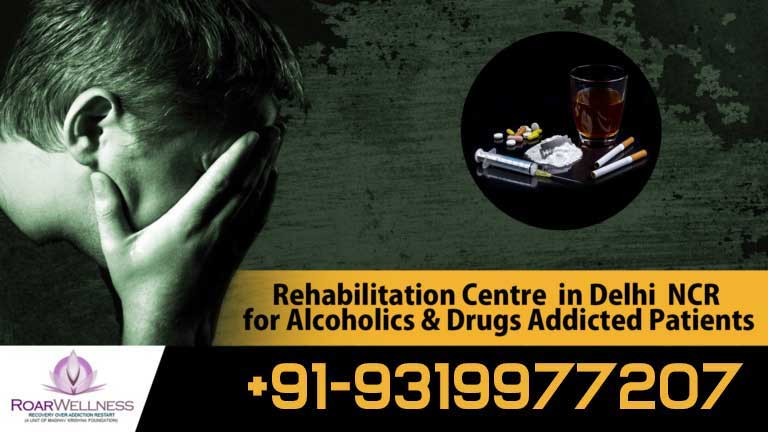 Best Rehabilitation Centre In Delhi
Rehabilitation Centre in Delhi – Roar Wellness is the leading Best Rehabilitation Centre in Delhi and De Addiction Centre in Delhi for overcoming addictions related to Alcohol, Drug Abuse etc. Roar Wellness rehab & de-addiction center in Delhi is committed to maintaining confidentiality while providing safe and effective treatment. ROAR is known internationally as a premium, luxury rehabilitation center/Nasha Mukti Kendra with a high success rate. It is located in South Delhi and attracts patients not just from Delhi/NCR, Gurgaon, Noida, Ghaziabad but also from Mumbai, Haryana, Chandigarh, Amritsar, Ludhiana, Punjab & Other Areas.
Rehabilitation Centre in Delhi. It is our belief that no one should feel isolated and alone in their struggle to overcome addiction. We are committed to helping those in need with our experience & best treatment thereby ensuring the highest success rate. Once you decide to quit alcohol/drugs, Roar Wellness is the only place which will ensure you get the right assistance in getting rid of these Addictions.
Roar Wellness (India's Leading Rehab Centre)
Treatments Offered:
Alcohol Rehabilitation Centre in Delhi, Rehabilitation Centre in Delhi for Drugs, Rehabilitation Centre in Delhi for Alcohol, Drug addiction Treatment Delhi, Alcohol addiction treatment Delhi, Residential Rehabilitation Centre Delhi, Luxury Rehab in Delhi, Nasha Mukti Kendra in Delhi, Nasha Mukti Centre, Dual Diagnosis Treatment Delhi, Drug rehabilitation centre in Delhi, Alcohol Rehab centre in Delhi, Drug Rehab centre in Delhi, Substance Abuse Counseling, Yoga and Meditation, Drink and Drug refusing skills, 12 Step Treatment, Correction & Behavior Modification.
Alcohol And Drug De Addiction Centre in Delhi NCR
Provides a safe, secure and supportive environment for addiction treatment Offers 24-hour care and support Assistance from an expert team of consultant psychiatrists/psychologists, therapists, and attendants 24-hour referrals with places available 365 days a year, ROAR aims to give the best quality care in residential treatment for substance use disorder.
Our team is motivated to deliver treatment and personal care that meets our highest standards. Over the years, we have improved our processes to create an open, world class environment. Our focus on discipline, safety, and procedures ensure best results every time.
Our procedures with multiple system checks ensure the safety and effectiveness of the treatment. We strive to improve the results we deliver. We have regular audits and compliance checks based on which process improvements are incorporated to successfully offer better care with time.
The facility at ROAR is committed to delivering the best rehab services possible. To meet this objective, we have a number of policies and procedures in place:
1. Health and Safety
2. Infection Control
2. Data protection
Quality And Assurance
Rehabilitation Centre in Delhi. The ROAR rehab centre has a single objective of delivering the highest quality of care across the complete spectrum of services regarding substance use disorder treatment. This is delivered in a secure environment and is administered by a well educated, experienced staff of healthcare practitioners and councilors who monitor the de-addiction process every step of the way.
With the assurance of achieving positive results, ROAR rehabilitation and de-addiction centre is considered a benchmark in this domain.
Deliver safe and secure services
Ensure a positive experience of care from all who use our services.
We will measure our success by providing objective, quantitative and auditable data that measures outcomes, effectiveness and user experience to continuously drive improvement.
ROAR fosters an open and transparent culture that promotes evidence-based practice, continuous learning, and improvement. We aspire to be world class and a beacon of good practice.
Compliance
Rehabilitation Centre in Delhi. The team of healthcare professionals that work at ROAR and expert consultants associated with ROAR understands the importance of their work. It is their committed, focused approach that sets ROAR apart and presents us as the leading rehabilitation center that supports those in need of de-addiction in a truly exemplary manner.
The rehabilitation process at ROAR presents itself as a true method towards self-improvement. Our ever evolving procedure, practical approach to de-addiction and adherence to updated guidelines help us in delivering committed de-addiction results time and again.
Accommodation
Rehabilitation Centre in Delhi. There is much more to ROAR than just another rehabilitation centre. It provides the perfect blend of lush green surroundings, tranquil ambience and aesthetic living that are so essential when making lifestyle changes and exploring inner strength.
To ensure your stay at ROAR is comfortable, we have provided spacious rooms with all basic amenities that are needed. We offer Single, Double and Triple Occupancy Rooms. The living quarters are designed to offer a relaxing environment. Other facilities include well decorated common areas, therapy chambers, dining rooms, a swimming pool, well-equipped fitness center, a maintained tropical garden with big lawn for activities. Our in-house kitchen and trained chefs provide nutritious, multi-cuisine meals to offer a balanced diet. You only need to carry your clothes and toiletries when planning a stay at RORA Rehabilitation Center.
All Rooms Are Complete With The Following:
Air- conditioning, and Fans
Queen Sized Beds with 7" mattress (Triple Sharing and above)
Study Stations with Seat
Attached showers
Refrigerator
LED television with Satellite TV
Fresh fruits served daily
Daily laundry service
Daily room cleaning
Tea/Coffee Machine
Attached Showers
En-suite Shower
Housekeeping
100 percent power backup
Physical Dimension